Basic Requirement
Below are some basic guidelines for international applicants of UiTM's Postgraduate Programmes.

>Academic transcripts and supporting documents must be certified true copies.
>Certification should be done by a senior public official from the applicant's country or from Malaysia.
>All application forms and supporting documents must be submitted to the Institute of Graduate Studies, UiTM.

Academic Qualification

Master's Programme
Applicant must have a Bachelor's Degree with Honours in a relevant field of study from a university that is recognized by the University Senate and the Malaysian government.
PhD Programme
Applicant must have a Master's Degree in a relevant field of study from a university recognized by the University Senate and the Malaysian government. [Certain programmes may have other requirements stipulated by the Faculty]
English Language Proficiency
Applicant must show proficiency in English as all programmes are conducted in English.
English entry requirement for an international student is as follows: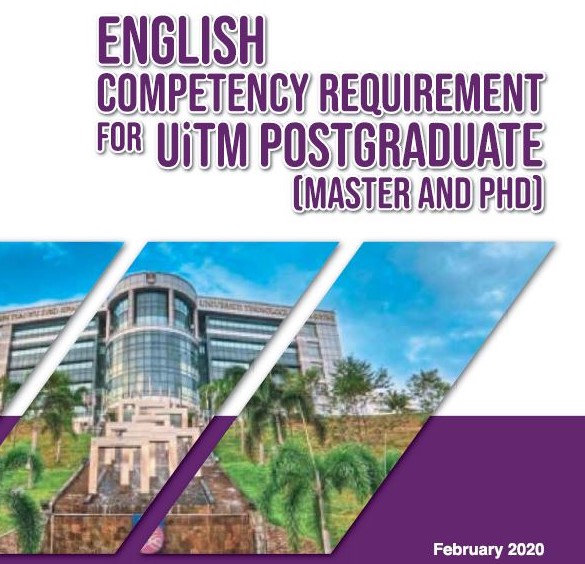 Exemption from UiTM English Language requirement if candidate:

i)    Has obtained Bachelor/Master or other relevant degree from a recognized Malaysian university or:
ii)    A native of an English-speaking country (refer Appendix) or:
iii)    Graduated from any higher learning institution which uses English Language as the medium of institution (refer Appendix)
Other Requirements
Applicants must also :
show proof of financial ability to pursue thier studies and live in Malaysia for the duration of study. A letter of financial guarantee/sponshorship or the most recent financial statement from applicant's bank is sufficent.
clear the medical check-up by the University's health authorities;
have international passports with at least two years validity and meet all immigration procedures.
[ More information on Immigration requirements is available on http://www.imi.gov.my ]
Intake
There are two intakes per academic calendar year - in March and September. However, application for *research programme is open throughout the year.
Fees
All fees, charges and accounts will be payable in advance as determined by UiTM from time to time. Students will not be permitted to commence or continue their studies at the beginning of any semester until all outstanding fees, charges or accounts are paid.

Fees are correct as at the time of printing. UiTM reserves the right to vary its fees at any time.
Registration
New postgraduate students are required to register on the official registration day. A fee of RM250 will be imposed for late registration with RM10 increment for subsequent days after that.

The offer of study will automatically be terminated if you do not register within 14 days from the official registration date.
Visa Conditions
International Students are not permitted to study on a part time basis.

International students are required to pay RM150.00 as the fee for a student visa.

UiTM is obliged to report to the relevant authorities any student who has failed to comply with the University's requirements. Such a student may be asked by the relevant authorities to leave the country.
Refund Policy
Upon a student's acceptance of a place offered by UiTM, a binding contract is deemed to have been created between the student and UiTM.

Students who wish to withdraw from the university within 28 days of the official registration, will receive a refund of 80% from the original study fees. No refund will be given after that period.

Students terminated by UiTM will not be entitled to any refund of fees.

UiTM reserves the discretion not to offer a course previously made available. Where a student is unable to enroll in a similar course at UiTM and the enrolment is cancelled then all fees paid will be refunded with the exception of a RM400 administration fee.
Deferment
A New Student are allowed to defer the registration to the following semester. This can be done only once. Application for deferment of registration can be made by filling the 'Application for Deferment of Registration' form which is to be submitted together with a processing fee of RM50.00.


Medical Insurance
As of July 2009 intake, all international students are required to have a medical insurance policy to cover their medical costs while studying in Malaysia. International students may opt to subscribe the medical insurance policy from an appointed agent by the university upon registration. Without a medical insurance policy, the student visa will not be issued by the Immigration Department of Malaysia.
Other Conditions
The student is expected to attend all classes and undertake all tests and examinations within a course and abide by all rules and regulations of the university that are in force at any time.